By Chilee Agunanna
At the risk of sounding vulgar, I wish to apply this Igbo proverb here: "Kinsmen are like the hairs around the anus, they can neither be shaved nor pulled." The Igbos fighting for Biafra are like those hairs, they are going about it the wrong way for now and dying unnecessarily, but they are our kinsmen and we cannot disown them, rather we can tell them not to die in vain like they are doing, because they are not doing anyone any good.
At the right time and in due course, their style of the struggle will be needed but it is not at this moment. We also say in Igboland that, "In a wealthy man's house, all kinds of characters abound—the strong, the weak, the loud, the meek, the violent and the peaceful, the honest and the thieves…." So whichever way you want to fight for Biafra, your skills will be needed, it's just for you to await the right time and place.
At the moment, if you want to use violence in the struggle, follow the example of Apostle Johnson Suleiman, preach it, shout it, threaten it, but never go outside in the name of any demonstration because you will only be canon fodder for trigger happy soldiers and policemen ordered to kill you and no matter how unfair, unjust and unlawful your death is, you can never resurrect. You do not have two lives where you can use one to fight and die for the struggle and use the other to live and enjoy Biafra when it comes. You only have one and we need you to be alive whenever Biafra is achieved.
There is always a time to defend and attack and now is the time for defence. Let us first defend ourselves from the Fulani Herdsmen rampaging about and killing our people instead of wasting our lives in demonstrations shouting for Biafra. It is better to die while defending yourself than to place yourself in the path of unnecessary danger through demonstrations.
You should even worry about the quality of the people that kill you. A comedian once joked that he would prefer to be jammed by someone driving a Hummer Jeep than one driving a Keke. It is people you have labeled animals that are killing you and you are answering a messiah or sacrifice. Messiah for who? Sacrifice for what? What do you gain from that?
Biafra does not need that type of sacrifice at the moment; if you have to die, you have to die honourably and your death has to count towards something and statistics have to at least capture you. These days we hardly know the correct figure of people that are killed, the numbers are usually disputed and coupled with that the soldiers and police usually deny killing anyone, so why die when no one will admit to killing you and your number won't even be reflected in the data?
We need everyone alive for the struggle. If you see they are shooting people, run away because he who fights and runs away, lives to fight another day. Don't die struggle now, we need people to live for the struggle. That is the current situation.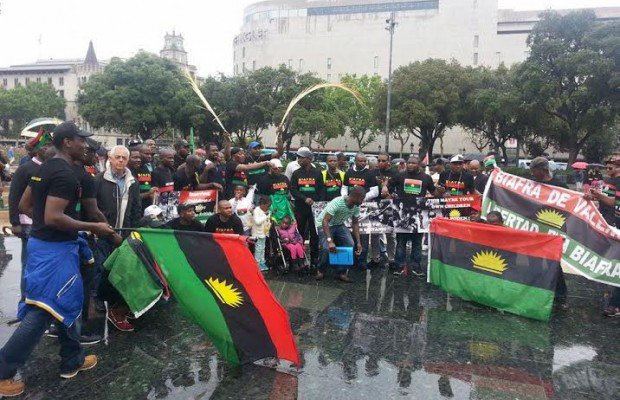 The way to the new Biafra is through self and nation building. Develop yourself and get ready to play a part, develop your land and your people, train them, help them and give them good governance if you are in a position of power.
In fact we already have Biafra but we do not realize it; we do not cherish it; we betray it; we steal from it; we cheat on it; we kill it.
The East is already Biafra but we do not nurture it because of the selfish and stealing leaders we have in Igboland. How can we realize Biafra when a governor uses the people's money to erect Christmas Trees while slashing the salaries of workers and pensioners and still not paying them the rest? How can we realize Biafra when a governor has turned the state government to his own family's business and we do nothing about it? How can we realize Biafra when a governor instead of paying his people decides to deceive them with a fake and non-existent airline?
Or do we talk about Biafra in Enugu State, the original capital of Biafra where Ugwuanyi ran to Abuja to laugh and pose for pictures with Buhari when his people had been massacred? How can we have Biafra when after the massacre, Ugwuanyi welcomes the Sultan of Sokoto with fanfare and praise instead of expressing anger and threatening retaliation for the death of his people just like El Rufai threatened that the Fulanis would in this 2012 tweet: "We write this for all to read. Anyone, soldier or not that kills the Fulani takes a loan repayable one day no matter how long it takes."
Where is this where instead of patronizing Innoson Motors who is right there with us, they are still buying Toyota and BMW cars? Where is this Biafra my people?
We cannot have Biafra until we develop Igboland and make it Biafra. Nothing is holding us from making sure the leaders of Igboland lead honestly and accountably.
What we need to do now is to strategize and elect humane leaders for Igboland who can develop our land; people who will not eat our collective share of the "National Cake" alone, only then we can take a step forward and say we are Biafra before demanding for Biafra from anybody we accuse of holding it.
Note: While writing this article, I also saw one by the Areafada, Charly Boy, titled: "Let us pause on the fantasy tagged Biafra for now" which expressed most of the same sentiments in my piece in a better way.
Chilee Agunanna is a Nigerian journalist and you can reach him on Social Media @ChileeChills.