Otunba Olakunle Omiyale (Otunba Omi International) is the Nigerian owner of a photography and video studio in Houston, Texas. He covers Nigerian and African events all over the US and Europe.
He hails from Igbajo in Osun State but was born in Lagos. He among the set of Nigerians who moved to the US in the 1980s in search of greener pastures and after obtaining a Masters in architecture he tried working at various firms but without much success until he stumbled on photography and went on to chart a career in the art.
Otunba Omi as he is fondly called is a member of the Eko Club which regularly embarked on Medical Missions to Lagos every other year and as result of their contributions towards the health of his people Oba Babatunde Ogunlaja of Epe conferred a chieftaincy title on him in 2008.
Otunba Omi is based in Houston, Texas, and spoke to Ikechukwu Eugene of The Source about the lives of Nigerians living in the US and some of the challenges they face.
How did you come to the U.S.?
Back in the early 80s, I graduated from High School. I gained entrance into Ahmadu Bello University, Zaria to study engineering but a few weeks after receiving the admission letter, they sent me another letter that my name has been dropped from the list of students that were admitted.
They said they admitted too many non-indigenes, being that I'm from Lagos and the school was in the North, and my name was dropped.
My dad refused to go and meet with the school administrators because he said he doesn't like to beg and so I spent a year and half in Nigeria. I attended Oyo State College of Arts and Science (OSCAS) to do my OND, after the OND, I was going to go for the HND but my mom approached me. My mom said, how would you like to go to the United States instead?
They gave us six months visiting visa and that was how we ended up in the United States. Came here, my mom went back and I ended up staying. I've been here since 1984.
From architecture, how did you get into photography?
Like I said, I was in Oklahoma studying. There's a small Nigerian church in Tulsa, Oklahoma, while I was studying for my masters in architecture. As member of the church, because we were so small and the budget was so low, so the pastor assigned members different activities to do in church. Some were assigned to clean the church, some were assigned to answer telephones, some were assigned to clean the toilet, I was assigned to take pictures of new members that came to church because we like to post members pictures on the wall. So the pastor bought me a small camera, that was how the interest came and I started taking pictures of members. Then all of a sudden, my friends in church started saying, 'Ol boy men, these pictures are so good, you need to start charging and doing this professionally or something.' I was like you kidding me or something, I'm an architect, I had an architectural job while I was going to school for my masters, why do I need to do photography?
But after some pressure from them, I agreed, then I started attending functions on weekends and taking pictures. Then I noticed that people were paying for it, I was actually beginning to make more money than being an architect because architectural job doesn't really pay much in the United States. I know it's big in Nigeria but in the United States it doesn't pay much, it's like minimum wage.
Then in architecture, when the economy is really bad, it's like being in construction, when the economy is bad, they lay off a lot of people. Then as soon as the economy starts improving, they start hiring again. It just so happened that there was a time when the economy was so bad during the Reagan years and they laid me off. I was laid off three times in a month. As I was being laid off from one company, I will apply to another company, they will hire me, it just so happened that within a month span, I was laid off from three different companies, that was when I moved to Houston in year 2000.
I found another architectural job here in Houston, Texas, but I made myself a promise, if I get laid off one more time, I'm not going to work for anybody anymore, I'm just going to start my own business. Because photography then, I was already established, although I didn't have a studio, I was doing it from home, but I had so many customers already and I had good equipment.
So 2000 I started with another architectural company in Houston until 2003 April, the economy got so bad and they started laying off. I was one of the people that was laid off, then I just said, that's it. Then I found a studio and started off on my own.
Did the number of Nigerians and Africans in Houston contribute to your remaining in Houston?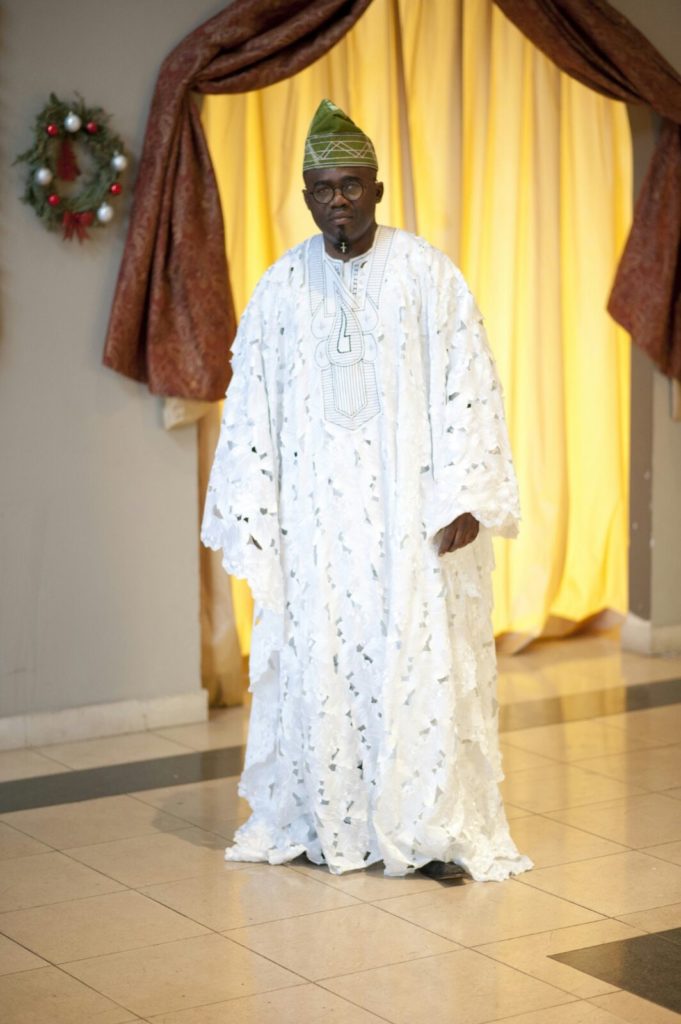 Absolutely, When I was in Oklahoma, I came to Houston a few times to cover events on weekends and the revenue that I generated from the trips was more than what I expected and that was one of the reasons that encouraged me despite the fact that I was laid off in Oklahoma, I was already thinking of probably moving to Houston, Texas.
The Nigerian population in Houston is just unbelievable and people are moving in every day. In this business, I used to think that I knew everybody in Houston, but each party that I attend on weekends, I see faces that I haven't even seen before. It is not official, but we probably have a quarter of a million Nigerians that reside in Houston alone.
As big as my business is, we don't even cater to non-Africans; we don't cater to Americans, we don't cater to Europeans. We only deal with Africans and our customer base is basically 90 per cent Nigerians and ten per cent the rest of the African countries. We don't even need to cater to Americans; we are busy enough with the African population.
Is it an intentional act or is it that they don't come and you don't care?
It's not intentional, it's just that we are too busy with the customers that we have, we do not do any marketing, we have a few Americans that come in, that walk in because they see the sign outside. When it comes to our jobs on weekends, covering weddings, birthday parties, baby showers, different functions that we do, traditional weddings, we only cater to Africans. If an American comes in here to hire us, we will accept the job, but the thing is we are already fully booked covering African jobs.
The population of Nigerians in this Houston, Texas, is just too much that, I guess we can hire more people if we see highly motivated Nigerians, we can hire them in addition to our team but unfortunately we haven't been successful in finding motivated Nigerians that are willing to work.
How would you evaluate the young Nigerians that come into Houston, are they hardworking or lazy?
When we came in the 80s, we didn't have a silver spoon in our mouth. Most of us came visiting and we didn't have any papers. Recently in the 90s during the regime of Bush senior and during the Clinton years, they did a lot of amnesties and that brought in a lot of Nigerians through the lottery. I hate to say this, but a lot of people that came in during the 90s came in with a silver spoon in their mouths. They came in thinking that the U.S. was paradise and they are kind of laid back not wanting to work.
Also at the beginning of the new millennium, when 419 was very popular, a lot Nigerians came in thinking that they could just come in an cheat people to make money. Most people came in to make money, unlike us who came to study in the 80s thinking that we would finish our studies and return to Nigeria but unfortunately, home was already a mess. There was no place to go back to and we ended up staying back in the U.S. Some of our children are already graduating and getting married here. There is a sense of laziness when it comes to the set of Nigerians that came in the late 90s and in the 2000s.
Do you think that you have made more progress remaining in the U.S. than if you had returned to Nigeria?
There are two ways of looking at that, only God knows. I would think that there are benefits both sides because America has been very good to us, probably there is no other country in the whole world that would have accepted us the way America had accepted us immigrants that came from other countries.
The school system was good to us, some of us even go Students' Loans, there were jobs available to us and I was among the lucky ones that got citizenship without having to marry an American citizen. I got it through the Reagan Amnesty Programme in the mid-80s. Only God knows if staying back in Nigeria would have been better for me, I can't predict that. But looking at the way the economy is in Nigeria, I'd say, we are better off coming to America.
Some of us have regrets because our children were born and raised here and they don't even know anything about Nigeria and it's very unfortunate to see that happen but unfortunately, that's the way our leaders back home messed things up.
How much do you follow the happenings at home?
Believe it or not, we follow it more than the people in Nigeria because technology is so advanced right now and most of us devote even more time on a daily bases reading and watching news about Nigeria. Whenever I visit home, it's unbelievable how much I know about home than the people that actually live in there.