Princess Beatrice Nkeonyeaso-Dike nee Nwoko is from the Royal Family of Idumujugboko in Aniocha North Local Government Area of Delta State. She has lived in the U.S.A since 1998 and has worked as nurse since 2002. She was a matron at Central Hospital Agbor, Delta State before leaving for the States where she has continued working as a nurse.
She is also the president of Otu Ifedinma Cultural Group, a group that has tasked itself with upholding the African culture in the U.S.A. The group is also involved in contributing their own quota to the progress of their home towns in Delta State.
In this interview held at her home in Houston Texas, Princess Beatrice speaks about the challenges of living as a foreigner in the U.S.A, trying to earning an honest living despite some level of racism and taxing themselves to contribute to the development of their hometowns in Nigeria.
What made you relocate to the US?
It was the search for greener pastures. But I had to start all over when I got to the US because I had to pass my board exams before you can practice as a registered nurse.
So why did you give up what you had in Nigeria to relocate to the US?
It was due to lack of understanding because we all think America is a bed of roses before you leave Nigeria. Nobody tells you what it takes when you come in here until you get here and you find yourself, already you have left your job back home, you have left whatever you have there to come here so it's like you don't have a choice but to start from the scratch.
How much of your experience in Nigeria was relevant to what you found in the USA?
It was a great help having all that experience in Nigeria before moving to the USA. Nursing is the same everywhere, the main difference I see are the equipment. Nigeria does not have equipment. From time to time the equipment change, they bring in better equipment and they have to train you to use that equipment, so it's all about the training.
So from what you have seen here and the feedback you get from Nigeria, what are the major challenges to nursing in Nigeria?
Everything. Actually, we have nothing equipment-wise back home in Nigeria. I visited my last station, Central Hospital Agbor, when I was in Nigeria two years ago and just entering the unit, I felt like I was in one of the most local places in the world. So we have a long way to go when it comes to equipment. I don't know where to start because it's from the least equipment to the highest equipment, we have nothing and it is sad.
What would you suggest?
I really don't know where to start from because we have a long way to go but we have to start from somewhere even if it means the least equipment like blood pressure and vital signs monitoring equipment. At least that is the most common thing that can be found in a hospital. I don't know where to start because we have a long way to go when it comes to medical care and equipment that we need.
So assuming you are put in charge of that hospital or the state hospital system, how would you start?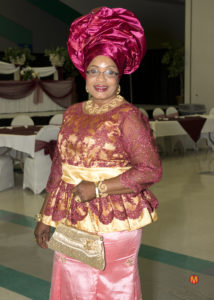 Number one it is not a one-man thing, everybody working together makes a lot of difference. The problem we have in Nigeria is that one person might mean well but the people working with you, do they mean the same? A tree cannot make a forest. Let's stop pointing fingers at the president or the vice-president or the governor or anyone else, let us start looking at ourselves. Every one of us is a problem to that country.
Because if we continue to point fingers, we at our own level what are we doing to ruin that country? So whatever we have to do has to be a collective effort. It is not something that I can say if I'm put in position today, I will do this or that. I may mean good for that country or for that particular hospital but I have to work with people. I cannot be the nurse, the finance person, the accountant, the secretary or other things, no. I cannot be everything so everybody has to wake up to reality. Right now we are asleep, we just apportion blames but we don't look at ourselves. We can start from the very little things before we go to the bigger things.
Would you go back to Nigeria to work?
I may not go back to Nigeria to work but definitely, I will return to my motherland. But if at any point in time, there are people that need my advice, supervision or contributions to what can move a particular hospital forward, I will be willing to take part in it.
Do you experience any form of racism while working in the USA?
Yes. Those are some of the things that touch me as a Nigerian. I wish my country was what it's supposed to be, I wouldn't stay a second in the United States. But being that our country is what it is, we don't have a choice but to stick in here. Racism is something that you see every single day. You live with it here in the United States and it's like you don't have a choice. Sometimes you think such things will not be existing in our age of today, but unfortunately, I don't know if it's getting worse.
You can imagine where you have a patient, a white racist on the unit, and the person would request openly that they don't want a black person to touch them. And every day they tell you to your face, 'go back to your country, you bloody African'. These are people you are taking care of but they just can't stand you, they don't want anything to do with you because you are a black. It's all over the place, it's no longer news. Racism is real.
How do you carry on?
It's an everyday thing so it's like you develop a tough skin to it after sometime. Most of the time you don't call it anything, you just move on and then maybe later, when they think twice, they come back and apologise. But it hurts.
There was a day we have a particular white racist and she specifically requested that she should not be attended to by a black nurse. But unfortunately for her, there were no white nurses on duty that day, so the supervisor went to her and explained that there were no white nurses on duty and asked her what she would do instead. That was when she reluctantly accepted that a black nurse attend to her but the question then was who was willing to attend to her after what she had done. But you know, we are there to serve, so somebody still attended to her and let it go.
It seems that nursing is the preferred job of blacks and Nigerians in the USA…
I think it has to do with job availability because a lot of people have gone through courses that they come out and they can't really find a job. But with nursing there's high demand for the job. So people kind of tend to want to do nursing just for the availability of the job.
Some say it's lucrative, I don't know about that to some extent. Because if it's as lucrative as other jobs, you won't be doing two jobs or three jobs at the same time. You're not crazy, you are only doing it because you want to make the money. So if you had enough money coming in, you wouldn't do all those hustling.
But I would say it's mostly the two things that draw people to nursing is one, availability of job; two, flexibility of your schedule. Because you can decide to do Day, Night, Afternoon or even choose an agency job where you work days you want to and stay off on days you don't want to.
Are there more black nurses than white nurses?
Yes, there are. Because the white don't really want to do dirty jobs so they go for the more lucrative jobs.
In hindsight, would you have taken the same step of relocating to the USA from Nigeria at the time you did?
If I knew what I knew now, I wouldn't even make the attempt of coming. But like most of us, you've already left your job back home, so if you decide to go back, what are you going to do when you get there? Your job and everything is gone.
But I'm somebody that doesn't dwell in the past no matter the mistakes I made, I always want to leave them behind. So that's what I did and that's what I expect every other person to do. Don't hold on to your past, don't let the past hold you back.
How did the Otu Ifedinma Cultural Group start in the USA?
Otu Ifedinma Cultural Group started even before I came into the United States. It was just a group that was formed by a few women with vision who felt that the culture of our people need to stay alive because even back home in Nigeria you find that a lot of our cultures are dead. We just look at most of our things that we do as outdated, old-fashioned, not good enough or that Christianity does not have anything to do with it. So along the way we have thrown away a lot of our cultures.
Christianity does not tell us not to dance our cultural dance, to dance only the Englishman's own. I look at our people and I see that a lot of the things we suffer from is inferiority complex. Everything we do we feel is inferior, we wanna copy what the white people are doing; what the Americans are doing; the Western world is what we want to copy and then our own is so bad. So these women had a vision, they have lived in Nigeria before coming to the United States and they felt that our culture needed to be upheld and then that was how they formed Out Ifedinma Cultural Group.
It's all about our culture, our music, our dance and it has gone so well that even our children born here are able to dance to our traditional dance when we put on our music. But some of our children back home cannot but when you get to America, you find that even the Americans have their cultures embedded in their society, they never throw it away. So that was the goal of forming the group and it has done wonderfully well. We just celebrated 25 years of existence and it was a good party.
What are some of the things the group have achieved?
Here in the United States, we try to represent ourselves in the world that we live in because we have to make ourselves known here too. We encourage each other, we support each other because we are very far away from home and when things go wrong, you know that Nigeria is very far away and your people are very far away. Your closest relatives are the people you have around you here. So we give that support to each other and every Thanksgiving Day (Nov. 27), we take part in serving and giving things to the needy. We buy food items, clothing and other things and we take them to George Brown Convention Centre to donate to the poor and needy. We also spend hours there serving the homeless people, the poor and make them happy.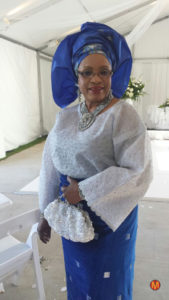 We also have a Welfare Committee, we reach out to the community here and if there is anybody that needs help, we go out there to render assistance as much as we can, especially to African people who are in this country.
Back home, we started a project where we helped to repair infrastructures and obtain new things for schools, elementary schools within the local government areas of our members. We send members to find out the major things that we need, then we go home and execute the project ourselves. We don't give our money to people at home, we usually delegate a member to go and execute the project so we know first-hand the job is done.
How do you combine all this with your various jobs here?
We work so hard in America that we barely have time but these social activities are our means of easing our stress because when we meet, that's where we chat with each other, we talk, we laugh and somehow you forget whatever stress you are going through. So that's why even if it's hard to make time, we try as much as possible to carve out that time to be able to do some social activities because that's what keeps us going so that we are not stressed out.
What is your final word to Nigerians?
Let them not see America as the ultimate goal because it's like our ideas about America are more than what the country is and so you find that a lot of us when we come here, we just face disappointment. Some of us cannot stand that and it affects them so bad and some of us that can stand it, even if we are strong, it's so hard because that was not what we expected. They should know that America is not a bed of roses like we think it is because if you are prepared before you come in, it's better than expecting to meet a land of gold and then you get here, it's nothing, compared to what you were ready for.
For those who have good jobs in Nigeria that are able to keep their head above the water, I don't see any need for them to abandon their jobs, abandon what they are known for and come to America only to be disappointed. But for those who do not have anything to regret if they leave Nigeria, then yes, if they have their way, they can come over here and start from the scratch. You work so hard for anything that you get in this country.