BY CHILEE AGUNANNA, TEXAS SOUTHERN UNIVERSITY
Saturday, March 17, was arguably my finest hour since arriving the United States a little less than two years ago. I was awarded the "Best Student Overall" at the 26th National Association of Black Journalists (NABJ) Multimedia Short Course at North Carolina Agricultural and Technical State University (NC A&T). I was also awarded "Best Photography (Online)". I didn't expect any of those, but I'm very grateful to receive them.
The greatest reward to me is the people I met, both students and faculty.
The beginning of the program started off on the wrong foot. I landed at Charlotte instead of Greensboro (about 2 hours away) and Ms. Bowman had to send someone to pick me up. I felt like I was already becoming a problem candidate from the start, but everyone became my friend from that point.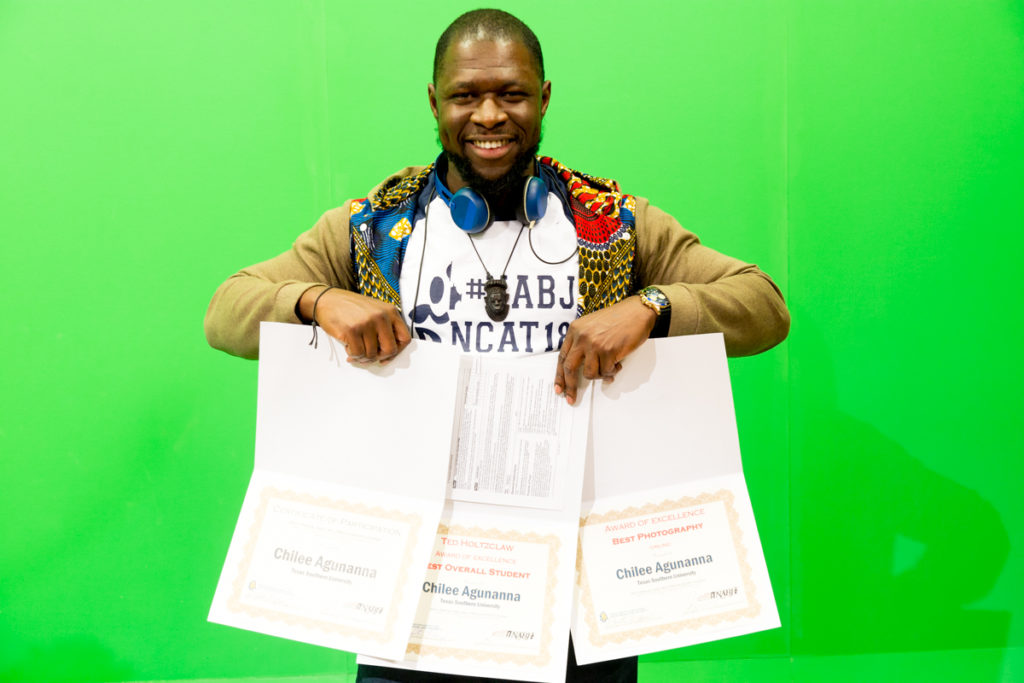 I guess I was the last of the 30 Short Course students to arrive because I was taken straight to N.C. A&T campus with my luggage and I had to immediately joined my colleagues and the mentors in the classroom.
From then on and over the course of the four-day program, I was amongst some of the most talented, kindest, nicest and merriest bunch of young black people the United States could offer. I could swear that not a word of anger or antagonism was exchanged throughout our stay. Everyone looked out for the other, had fun, worked together and the quality of our final projects can attest to this fact.
We were invited to a GroupMe chat formed by Natalie before arriving NC. The chat is still alive even after we have left.We will continue to follow, support, mentor, guide and guard each other for as long as possible. We are family.
Our faculty, made up of some of the best black minds in the business, is also in on this excellence and our gratitude to their teaching, mentoring, guidance and criticism will remain for the rest of our lives.
GOOGLE MAP OF #NABJNCAT18 STUDENTS
It wasn't a competition so the prizes we won don't mean much because any of us would have been deserving of any of them and we would have all been equally proud of them.
When some of us were scolded for not passing the quiz well enough, we all felt it and when we won prizes and awards, we savoured the moments together. That's what a family does.
On behalf of the Class of 2019, we pray you to make the program last at least a week and make Saturday a free day for games, bonding, a picnic, or any activity that would enhance more familiarization among everyone and then Sunday could be departure.
On a personal note, I have come a long way from home, literally and figuratively. I joined NABJ exactly one year ago and I have felt nothing but love since then. They were there for me when I was displaced by Hurricane Harvey and now, this. Experiences like this validate my journey and the decision I made to leave my country in search of the American Dream and I will forever be grateful to NABJ for providing me a family away from home.
My classmates and I are very grateful to everyone that took care of us. From Prof. Wiggins to Mr. Wilson to Mr. Williams and everyone that took time off work to work on us, we say thank you and promise to put our training to good use.
Everyone of us is grateful: